Maria Camahort, guitare, Lauréate 2012
Helena Winkelman, Prix International 2001
Maria Camahort is a guitarist, ensemble leader, composer and teacher.
Graduating with a distinction in MMus Performance from the Guildhall School of Music, and awarded with the Guildhall Artist Fellowship 2
Her exceptional knowledge of her instrument and her devotion towards chamber music and collaborative projects have given her the opportunity to perform in a great variety of genres, settings and contexts.
Maria has performed in several festivals such as Barcelona Guitar Festival, City of London Festival, International Conservatoire Week Festival, Bath Guitar Festival, London Guitar Festival, Kings Place Festival, Edinburgh Guitar & Music Festival, etc. She has performed in venues of many cities, such as Barcelona, Madrid, St Petesburg, Warsaw, Cracow, Sevilla, Valencia, Oxford, Edinburgh, Brighton, Orléans, etc. In London, she has performed at Bolivar Hall, St Luke's, St James´s Picadilly, The Forge, Bishopsgate Institute, Barbican Centre Pit Theatre, The Blue Elephant Theatre, Kings Place, St Martin in the Fields and Southbank Centre among others.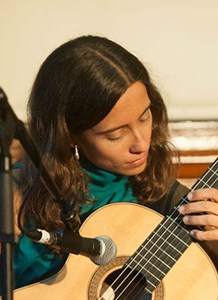 News
1/10/14
Concert at St James Picadilly – 24th October
Maria Camahort will be performing on 24th October at St James Picadilly, as part of the Lunchtime concerts this wonderful venue organises. His solo guitar concert will include a mixture of classical repertoire and music by Spanish composers. More information soon!
1/10/14
New Collaboration with Cuban guitarist Ahmed Dickinson
Ahmed Dickinson has launched a series of performances under the name Cuban Guitar Series. This performances will be packed with premieres and aim to promote the work by Cuban guitarists from diverse generations and styles. Ahmed will be joined by Maria Camahort in some of these performances, playing some of the coolest and most exhilarating contemporary works by E.Martín and H.Angúlo.
11/06/14
Little Soldiers Production New Show – Don Quixote
Maria Camahort will work as composer and musician on stage at the new theatre producion of the company Little Soldier. The Ingeniuos Gentleman Don Quixote of la Mancha will be premiered at Jackson's Lane Theatre on 23rd July, followed by a Preview tour through different UK cities, and a month of performances at Edinburgh Fringe Festival.