P

ro Musicis France 2013 Awards: 3 brillant winners

Pro Musicis France is proud to welcome to the worldwide famous Artists family:
Jana Jarkovska, flute, and Bohumir Stehlik, piano
Misha Namirovsky, piano solo
Lucy Driver, flute, and Maria Camahort, guitar
Jana Jarkovská, flute, and Bohumir Stehlik piano
Jana Jarkovská was born in 1983 in Jaroměř, a cultured town in DSC05200_3SiteEastern Bohemia in the Czech Republic, where she started studying the recorder at the tender age of three. By the time she was seven, she was studying the flute in a music school in Hradec Králové. After graduating from The Bishop Grammar School in Hradec Králové in 2002, she entered The Prague Conservatoire where she studied the flute for six years with prof. Jan Riedlbauch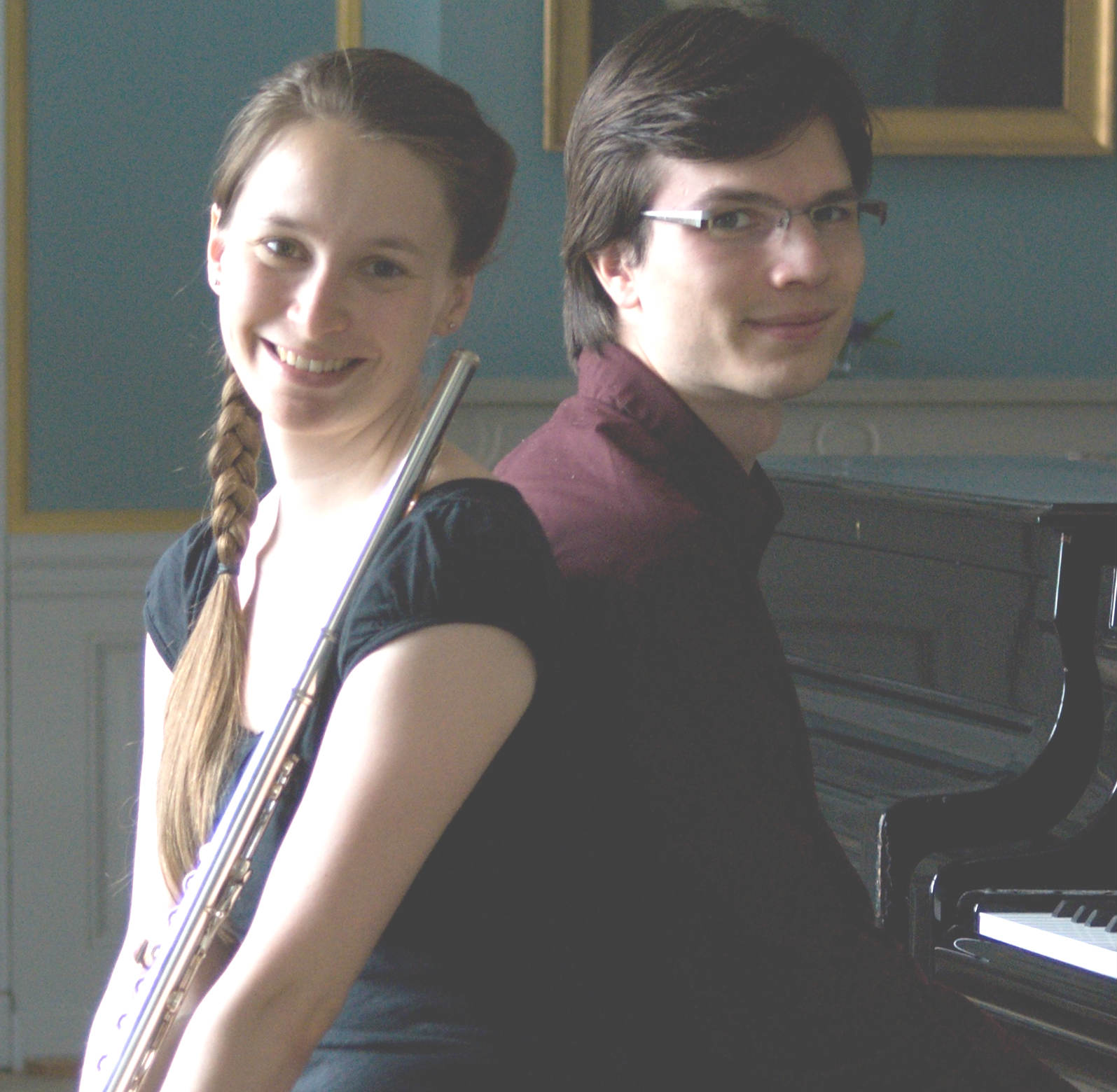 During her studies she won the first prize at The Czech Conservatoires' National Competition and the Yamaha scholarship which is awarded to only one student of the Prague Conservatoire each year. She has also participated in the esteemed Prague Spring Competition. In the year 2010 she studied for one semester at The Conservatorio di Musica "Giuseppe Verdi » in Milan (Italy) with prof. Simona Valsecchi (flute) and Emanuela Piemonti (chamber music) within the Erasmus Study Internship. In 2012 she worked as an assistant professor in Prof. Simona Valsecchi's class at The Conservatorio « G. Verdi » within Erasmus Placement Program. Apart from that, she is also studying at The Academy of Performing Arts in Prague (with prof. Jiří Válek). Jana Jarkovská regularly attends master classes of renowned flautists such as Philippe Benoit, Barthold Kuijken, Gaby Pas-Van Riet or Kaspar Zehnder. In 2011 she performed at The « Za poklady Broumovska » Music Festival with her trio (flute – violoncello – piano) and their performance was widely appreciated. Beyond the traditional flute repertoire, she also enjoys performing contemporary music and has performed in contemporary premieres as well. Her concerts have taken place within the Czech Republic as well as abroad – in Poland, France, Italy, Switzerland, Luxembourg and the USA.
Bohumir Stehlik, piano
Born on the 26th of January 1990 in Prague. Bohumír is one of the foremost pianists of the younger generation. He has distinguished himself both as a soloist and kammermusiker. He has developed an sensitive instrumental skill and great musical expressive power. Primary music education was gained in the Music School of Prague under the command of prof. Jan Tůma and at the Gymnasium of Jan Neruda with musical survey where he studied under the patronage of Mgr. Irina Kondratěnko. Since 2009 he studied at the Academy of Performing Arts in Prague with Doc. Frantisek Maly. Circumstances changed his life path and brought him to one of the most prestige music academies in Scandinavia. Since 2011 Bohumir is studying at Edsberg manor – a part of the Royal Academy in Stockholm, Sweden. His teacher is one of the front swedish pianists Mats Widlund. During last years many laureate awards in solo competitions (e.g. Virtuosi per Musica di Pianoforte – 1st price, Concertino Praga – 1st price, etc.) and in competitions of music ensembles (Chieri International Music Competition « Citta di Chieri » – 1st price, etc.) has been given to him. Concerts with orchestra were also successful – Bohumir performed his own cadenzas in Mozart's piano concerto d minor. Bohumir got scholarships for piano masterclasses in many europian countries. He has been taught by such maestros as for example Jiri Hlinka (Norway), Daniel Blumenthal (USA/France), Eva Poblocska (Poland) or Martin Roscoe (England). In the chamber music domain the knowledge has been given by Jan Vogler, Karen Gomyo, Mira Wang, Robert Chen, Daniel Schnyder and others. He took part at various music festivals both in his homeland and behind the czech border (Moritzburg Festival, Dvorakova Hudebni Nelahozeves, ICMF Stavanger etc.). Bohumir is an experienced chamber music player thanks to festivals of chamber music and accompanying of varied instruments at concerts and competitions. He has also experiences with voices and melodram accompanying. Playing cembalo belongs to other skills thanks to playing in a theatre and orchestra. He also studied conducting under the command of composer and conductor Jiri Smutny. One of his biggest hobbies is playing the organ. He spends lot of his free time with this queen of instruments
Misha Namirovsky, piano
Misha Namirovsky is a sensitive musician, always striving to deeply understand the character of the music, and vividly transmit it to the audiences. Following a performance of the Chopin Concerto No. 1 with the Springfield Orchestra in Mass. Mark Baszak wrote in the Union – News: "Misha Namirovsky astounded the audience with his flawless technique and mesmerizing yet non – theatrical performance." Mr. Judd of the Herald (CT) wrote after hearing a performance of Beethoven's Piano concerto No. 4: "Mr. Namirovsky produced a beautifully proportioned and poetic offering, often elegiac in style." The Norderstedter Zeitung (Hamburg) summarizes: "young, modest, uncomplicated and already a master of his Art; the pianist Misha Namirovsky inspired the public with his idiosyncratic interpretations." Misha has performed as soloist in USA, Italy, Russia, Spain, Croatia, Germany, Japan and China. He collaborated, among others, with the Sendai Philharmonic Orchestra in Japan, Novaya Rossiya Symphony and Nizhniy Novgorod Philharmonic in Russia, and the Niederbayernphilharmonie in Germany. Misha is also a passionate chamber musician, stemming from the time he was a participant at the Marlboro festival in Vermont. He is a founder of ModЭTRE – a piano trio with the violinist Tessa Lark and the cellist Deborah Pae. Future engagements include concerts in Washington D.C., at the Weill recital hall in New York, in Germany, Italy, Israel as well as collaboration with the St. Petersburg Capella Symphony Orchestra in Russia.
Misha Namirovsky has received a deep and versatile education, spanning four countries and three continents. He began his studies at in his native city of Moscow, and continued his musical development in Israel, Germany and the USA. Throughout his growth as musician, Michael was accompanied and guided by wonderful musicians and renowned pedagogues such as Solomon Mikowsky, Eliso Verssaladze and Hung-Kuan Chen. Further important influences include Mitsuko Uchida, Alfred Brendel and Peter Weiley. Misha holds degrees from the Manhattan School of Music and the Yale University. He is currently pursuing his D.M.A at the New England Conservatory in Boston.
Misha Namirovsky was a two-time recipient of the Karen Sharet Scholarship in Israel, and a prize winner of many international competitions including "Louisiana international piano competition", "Koscuisco" competition in New York, "Sendai competition" in Japan, and "Spanish composers competition" in Madrid
Lucy Driver, flute, Maria Camahort, guitar
Lucy Driver is a London-based flautist. Lucy studied at the Royal Scottish Academy of Music and Drama with Richard Blake where she was awarded BMus(hons). She then won a place to study at the prestigious Guildhall School of Music and Drama in London, on the Guildhall Artist Masters Course, from which she graduated with distinction. Lucy studied flute and piccolo with Sarah Newbold, Ian Clarke, Philippa Davies and Sharon Williams. Whilst at GSMD Lucy was chosen to take part in sit-ins with the London Symphony Orchestra and the Philharmonia Orchestra, and also took part in the GSMD side-by-side projects with the BBC Symphony Orchestra and the LSO.
Lucy has performed in a variety of venues including the Barbican Concert Hall, the Wigmore Hall, Cadogan Hall, LSO St Luke's and St John's, Smith Square. In addition to orchestral performances, Lucy performs recitals at Music Festivals around the country and abroad, and performs as a soloist as well as in a number of chamber music ensembles. Bookings are welcomed for weddings, corporate events, background music, recitals, and education and outreach workshops and performances. Lucy and her chamber groups perform a wide range of repertoire from classical and light classical, to jazz and arrangements of popular music (requests are also welcome). Please get in contact for more information and quotes.
Maria Camahort, guitar
Maria Camahort is a guitarist, ensemble leader, composer and teacher. Graduating with a distinction in MMus Performance from the Guildhall School of Music, and awarded with the Guildhall Artist Fellowship 2010-12, her career has broadened vastly during the last five years. Her exceptional knowledge of her instrument and her devotion towards chamber music and collaborative projects have given her the opportunity to perform in a great variety of genres, settings and contexts. Maria has performed in several festivals such as Barcelona Guitar Festival, City of London Festival, International Conservatoire Week Festival, Bath Guitar Festival, London Guitar Festival, Kings Place Festival, Edinburgh Guitar & Music Festival, etc. She has performed in venues of many cities, such as Barcelona, Madrid, St Petesburg, Warsaw, Cracow, Sevilla, Valencia, Oxford, Edinburgh, Brighton, etc. In London, she has performed at Bolivar Hall, St Luke's, The Forge, Bishopsgate Institute, Barbican Centre Pit Theatre, The Blue Elephant Theatre, Kings Place, St Martin in the Fields and Southbank Centre among others.
News 10/10/13
Maria Camahort Quintet performing at Keys & Coffee Concert Series: Maria Camahort Quintet presents a concert of music by Spanish composers with a very original approach, sharing with the audience the vivid colours, earthy textures and rhythms of Spanish musical art. More info
21/11/2013 Maria Camahort concerts in Orleans (Paris), together with violinist Laura Gaya: Maria Camahort has been invited to perform with violinist Laura Gaya in Orléans (Paris) on 14th December, part of the concert series « Quatre Vallées en Musique » organised by Patrice Fontanarosa. Laura and Maria will offer a workshop recital in the afternoon, and a concert in the evening. Programme will include composers as Sarasate, Nin, Falla, Granados and Gasull.